Today was our final day at Disneyworld. We had seen all the parks and done nearly all the rides and shows so we planned today as our "best of" day. Last night we all sat down and made lists of our favorite things and today we rode them yet again.
It was no surprise that we returned to Hollywood Studios today. For most of us our favorite ride was Rockin' Rollercoaster. So we got up early and made a beeline for DHS. While we were there in time for rope drop, this rope drop was quite a bit different than the first time we were at DHS. This time it was packed and there were cheerleaders everywhere. We talked to a few who said that there was some national competition happening in the Indiana Jones theater, thus the plethora of squealing girls all huddled together in a big group. Of course, they were all heading for RnR too, so we changed our plan just a bit.
I rushed ahead of our group, who is slowed down as mom's wheelchair makes it hard to get through a crowd. I got to RnR and got in the long lines for the Fastpass machines. Man, did I get the wrong machine! It was slow for all those in front of me and didn't like my passes. I kept trying and it kept spitting them out. DOH! And then I had the rude person behind me saying "let me try mine ... mine should work and then you can keep trying yours." He was almost pushing me out of the way. RUDE! I did manage to get our fastpasses and then hurried to the top of Tower of Terror where my family was waiting for me.
We rode Tower of Terror again, getting on the ride with a screaming woman who did NOT want to ride but whose family kept telling the attendant that she was fine. Of course, this made for an interesting ride as this lady screamed almost the entire time.
Next we headed over to RnR for another spin on our favorite ride. On our way to RnR we noticed that the dream team had just been there handing out dream Mickey ears. DOH! We just missed them. Oh well. Brian and the kids had a great time posing for the camera ...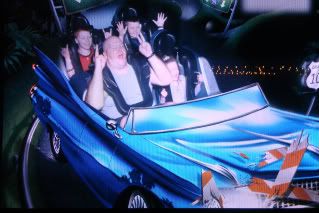 After RnR we headed over to see the Little Mermaid show that we had missed our last visit. I thought it was cute and Carissa certainly liked seeing the mermaid
but Brian and the boys didn't like it much at all. I guess when you compare it to the other stage shows like Beauty & the Beast, Nemo and Festival of the Lion King then the Little Mermaid does pale by comparison.
Our plan next was to wait until the big car stunt show started, but that was still several hours off. We started walking around and realized that we didn't want to spend our day just waiting in this packed park for one show so decided to say goodbye to DHS. There was only one more thing to do before we left - get Chase's picture taken with his hero, Walt Disney.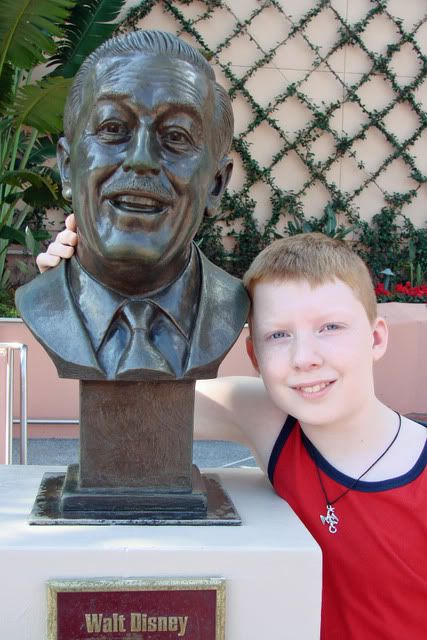 Next up was a stop at Downtown Disney. We hadn't made it there yet this trip and we were excited to see what they had. We had a quick bite to eat (nachos for Tristan and Carissa, McDonald's for Brian and Chase and the Earl of Sandwich for me). We shopped several stores, looking for some last minute souveniors for ourselves. Then we walked around a while before finding this place:
I had heard about the design-your-own candy that they had and I thought this would be a fun and unique experience for the kids. We went inside and made our selections then watched while they made them.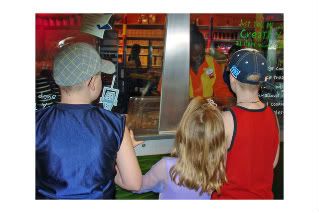 It took a LONG TIME so Carissa had fun looking at herself in the playhouse mirror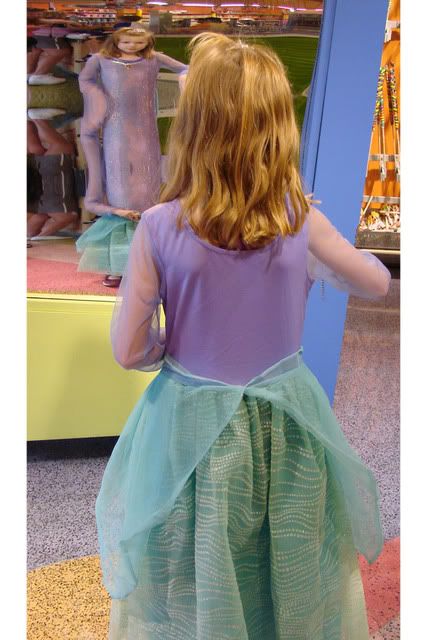 Finally, the candies were ready. Here's what they looked like: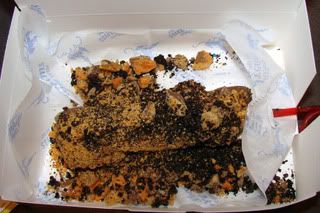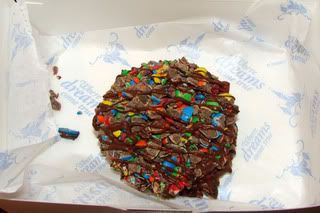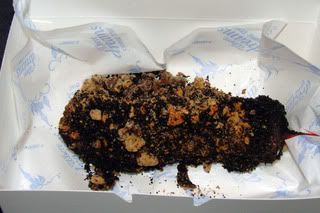 Gross looking, right? But the kids really loved them.
Carissa did fairly well choosing her toppings. She chose a giant oreo cooking, dipped in milk chocolate, covered in M&M's and topped with chocolate drizzle. It actually looked very yummy.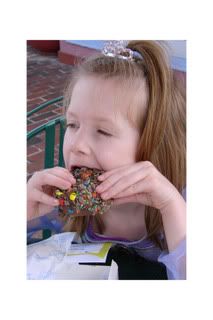 The boys were a little more adventurous. They tried to add every single thing they liked onto their candies. They both chose marshmallows on a Mickey head straw and had them dipped in milk chocolate. Tristan added rainbow sprinkles, peanuts, Oreo's, M&M's, Butterfinger and Reese's Peanut Butter cup to his. EEEEWWWW ... this thing looked diseased! LOL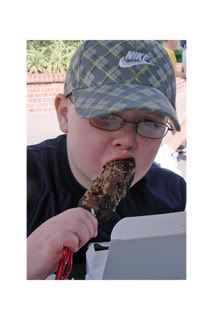 Chase chose to add Oreo's, M&M's, Buttefinger and Reese's Peanut Butter Cup to his and then had it drizzled in milk chocolate.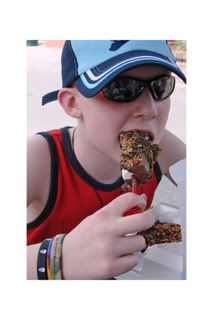 Yes, I got one too! How could I resist? I LOVE candy! Mine was marshmallows dipped in milk chocolate, covered with peanuts and M&M's and then drizzled with caramel. Mmmmmmmmm.
We took these outside to a table and let the kids have at them. The boys dug right in and loved every minute of it! Carissa was a little more tentative and ended up eating only about 1/4 of hers. It was a fun experience and they all enjoyed themselves.
We walked around DTD a while longer, snapping some pictures along the way.
By the time afternoon hit we had decided to return to our hotel for a bit. We hadn't yet had a chance to go swimming and it was 80degrees outside, perfect for a dip in the pool. We got back and changed then left Brian's parents at the hotel and took the kids to the pool. We swam and played for an hour or so before finally getting out.

Back at the hotel Brian's parents had decided to call it a night and stay at the hotel, so the five of us showered while we waited for the Pizza Hut room service. We took it in the car with us and ate it on the way to our final Disney destination today, Magic Kingdom. We knew we had to see our favorite fireworks, Wishes, for one last time. And this time I decided to leave everything at home, meaning no camera. I just wanted to soak up the last moments of vacation with my family.
It would, of course, be today that we got to ride up front in the monorail. And here I was with no camera! Grrrr! This was a very neat experience and a whole different ride when you're sitting up front. Unfortunately they would only let 4 of us sit up front and Brian absolutely insisted that I go with the kids. I felt a little bad about that, as I had ridden up front as a child and he had never done so. But he wouldn't be persuaded so I enjoyed this unique ride.

We arrived at Magic Kingdom about 6pm and noticed the hoardes of people there. I had forgotten that it was Extra Magic Hours, meaning that those who stay on Disney property can come into the park and stay later than the general public. Boy, did that make a huge difference! The crowds were thick! We decided to try to get on one of the big rides, knowing that we would wait a little longer than the 20 minutes we had gotten used to all trip. But first we had a stop to make. Tristan had been wanting a djembe (African drum) like the one Brian has at home and we had seen them in a shop outside the Aladin ride. We had promised him that we would stop by and get one so we did. He spent the last of his money (and some of ours! LOL) on that drum, but he is absolutely thrilled about it.

Next stop was Big Thunder Mountain RR, which had a 90 minute wait. No way were we spending an hour and a half in line for a ride. We decided to jump on the nearby Walt Disney Railroad for a ride to Tomorrowland.

We arrived in Toontown, which is as close to Tommorrowland as the WDW Railroad gets. We hopped off and took that nice, secluded path to Tomorrowland. Space Mountain was also a 90 minute wait and by now it was nearing 7pm. Again, no way we were waiting.

We made the last minute decision to just watch Monsters Inc. laugh floor one more time. Even this was busy and it was 45 minutes until we got out of the show. Knowing that there was only 15 minutes until Wishes we decided to head to the hub. Along the way we found a Photopass photographer who took this shot with the beautifully lit castle in the background.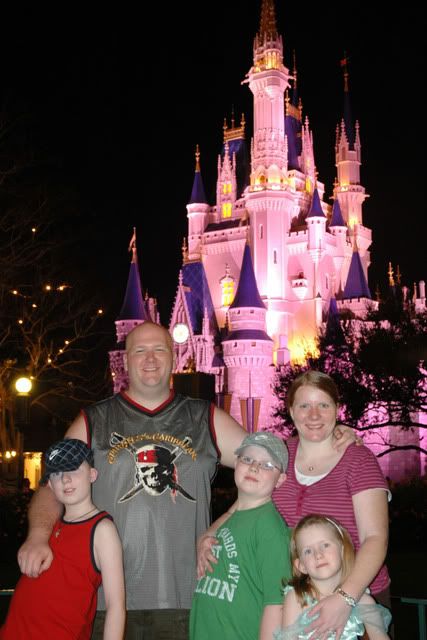 We found a wonderful spot in the middle of the hub and stood together to watch the fireworks. It was such a wonderful moment and my favorite of the entire trip. Standing togther in this wonderful place, arms around one another just enjoying the feeling of magic and togetherness, watching Tinkerbell flying overhead, ooohhhing and aaahhhing over the spectacular display. It was truly a magical moment.

After the fireworks ended we knew that it would be a mass exodus from the parks. We were in no hurry and made a little family huddle together right in the middle of the hub and just hugged one another. There were tears in my eyes and happiness in my heart. This was my family and in this moment everything was perfect.

We did finally have to move. The crowds had died down a bit, just enough for us to make our way into the stores for a little bit of last minute shopping. Chase used the last of his money on this huge A to Z Disney encyclopedia that he had found. He proudly totted along with that book and hasn't put it down ever since. Carissa got a "My Disney Princess" doll with the last of her money. Brian got a new wallet with Mickey on it. I got an address book with a picture of Cinderella Castle on it.

By now the kids had wiped out their spending money and we really had to get on our way. It was such a bittersweet moment. We didn't want to leave, knowing that we wouldn't be back for at least several years. But it was time.

Walking out of the park I could feel it tugging on my heart. The memories we had made here, the fun we'd had, the magic we'd shared. Of course, I could be counted on to tear up on the way out of the park, especially when the final cast member we talked to that day said "Have a Magical Day." I didn't want to talk to anyone else. I didn't want anyone to ruin that beautiful moment. And they didn't. We walked out of the park and onto the boat and to our car without another word from another cast member. Just a final "have a magical day" to send us on our way. And it was ...