I'm resurrecting the blog! I know I don't have time to update it often and that it's not really ever going to be what it once was, but I did want to share my trip report on here. I've got at least three other Disney trip reports on here (Disneyland girls trip-May 2010, Disneyworld - Dec. 2009, Disneyworld - Jan. 2008) and I didn't want to miss out on the chance to get this one. Because life is busy I'll be doing it in parts, as I have time to edit photos and get them posted. Here's just a short stint from our first day...
Our morning started bright and early at 4:15am. The alarm rang and immediately Chase poked his head around the corner into our room and said "We're going to Disneyland!" Brian woke up Carissa and I woke up Tristan, saying "Time to get up... we're going to Disneyland!" I think we expected some sleepy little cheers from them but I guess it was a little too early for that. Oh well, we were all still little excited.
We didn't get out of the house as quickly as we would have liked this morning. Brian and I are slowly realizing that time is of no consequence to teenagers. Everyone was moseying about the house, chatting and not really getting their butts in gear. So by the time we got out of the house we were 15 minutes later than we'd hoped.
The drive to the airport was clear but Brian and I were both silently watching the clock, knowing that we could be pushing it close if the airport was busy. We did arrive in plenty of time, however. Brian dropped me and the kids off at the curb with the luggage while he went and parked the van in the long term parking and then took a shuttle back to the terminal. The kids and I walked right up to the JetBlue counter and checked our bags, though we had to keep Brian's with us until he could personally check it in. Thankfully his journey went quickly and he was back at the terminal within about 20 minutes of leaving there.
Next up was the dreaded security... and I do mean dreaded. Brian and I both commented, again, on how security is probably the most stressful part of our vacation. It's just no fun at all and trying to keep everyone and everything in line was quite a hassle. I did have a small moment of panic when I got my shoes and all my other assorted gear (especially my precious camera!) back on and then realized that I'd left my phone in a bucket at the scanner. Oh no! I hadn't walked too far, but my heart skipped a beat until I found it. *whew*
By now the time was 6am and we hiked it down to gate c6. We knew the plane would board about 6:30, so I went and got some juice and water and Brian and Carissa hit the bathroom. Then it was just sitting and waiting while we munched our breakfast of Krispy Kreme donuts (which we also hauled through security... maybe we need to rethink how much stuff we are bringing with us!).
Anyways, 10 donuts and 30 minutes later we were laden with sugar and ready to board the plane. We were flying JetBlue, an airline the family had never flown. I had flown them once before, in my girls getaway trip with Beks back in May of 2010, so I knew that I wanted the family to fly JetBlue. There's something about those TV's in the back of the seats that really make the flight seem so much quicker and easier! Of course, the fact that it's only 2 hours to California (as opposed to 8 hours to Florida) might have something to do with it too.
We arrived in Long Beach safe and sound and our driver met us at the baggage claim area. We prearranged service from DK Livery and it was great (at least this leg of it was). We even got a short stop at a grocery store to pick up some water, milk and apples for the room.
We got to our hotel, the Best Western Park Place Inn, and were pleased that it was exactly where I envisioned it being... directly across the street from the park! It is such a quick and easy walk to the park from here and I love that! Anyways, when we arrived the clerk asked for my voucher for the hotel room. My reply was something along the lines of "voucher? I don't have a voucher!". My internal panic set in for a little while, thinking that the only possibly place it could be was back at home in Oregon with the bits and pieces of the travel packet that we didn't take with us. Oh no! For a moment there I really thought they were going to tell me that I'd have to pay for the room again! I did ask if they could maybe call Disney Travel to verify that we did indeed pay for the room and they said they would, however when we checked back later to pick up our room keys I asked and they still didn't have anything. We'll see how that works out. (Edited to add: When we checked out the final day no one said a peep about not having the slip, so in the end I guess it all worked out).
Now that we were check in, had our luggage stowed in the hotels luggage room and were generally all done with travel for the day, we headed straight to the parks!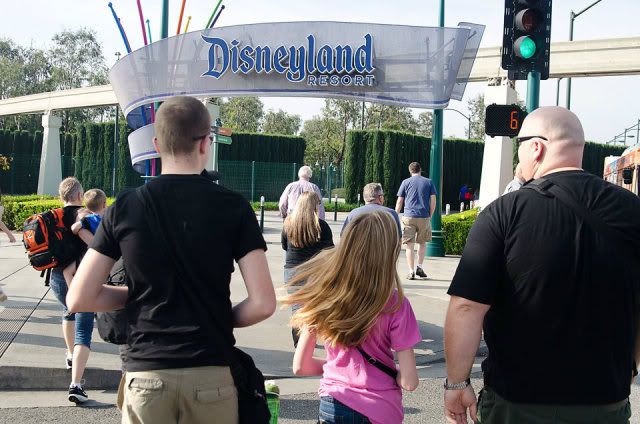 We arrived about 11:30am and headed straight for the lockers, so Brian could put the backpack and coats in there. I waited in line to trade my Photopass Plus pre-purchase voucher in for the actual Photopass Plus lanyard and card at the photo center. This took FOREVER! Like 20-25 minutes. They only had 3 people working the photo kiosks and the customers they had were apparently very needy, as not a single transaction was completed in the first 15 minutes of my wait. Eventually my turn came though and I got my Photopass Plus lanyard. While I was waiting (and waiting), Brian and the kids ran to the Blue Sky Cellar to trade the vouchers for free lanyards and pin that we received as part of our package. Now Brian and I actually have pin trading necklaces. We even both traded today.
Our original plan was to head straight to Screamin', but I wanted to grab a Soarin' fastpass on the way, so we took the longer route from Blue Sky, which took us past Soarin'.
We stowed the fastpasses and then tried to get fastpasses for GRR, as I thought they were not connected to the fastpass system. Wrong. My bad. No fastpasses. But the standby line was only 5 minutes long so we got a locker for all our gear and went on our first ride of the trip - Grizzly River Run.
We had fun and laughed at the misfortune of others... like when they got spayed with water or the tube kept spinning (as kept happening with us... btw, spinning rides are NOT Brian's forte). Somehow this ride did not do me any favors today. I left with a grossly wet backside, as an entire wave made its way directly down the back of my pants and soaked right in. Just great. Chase got out relatively dry, as did Tristan. But not the rest of us. What a way to start the day! LOL
After our ride we collected our gear and set back on our way, towards Screamin'. We met a Photopass photographer on the way and got our first round of group shots this trip. See how wet we are?
Just wait... it only gets wetter...